Quietwater Films will have a booth this year at Canoecopia. Canoecopia is the largest paddlesports expo/convention/tradeshow in the country.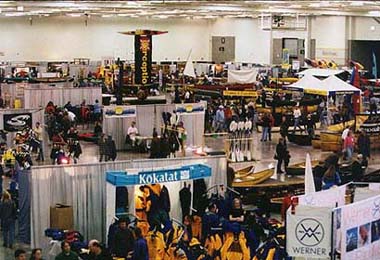 It happens in Madison, WI. this year from March 7-9 at the Alliant Energy center. I walked the aisles last year along with my wife and kids. Big fun just being part of the energy that comes along with a crowd of tens of thousands of happy people looking around at outdoor gear.
This year will hopefully be even more fun as an exhibitor. Last year we had nothing to sell or even to show really. This year we'll have three products - a solo canoe DVD, a rec kayak DVD, and a tandem canoe DVD.
One of the things that makes Canoecopia interesting is the great bunch of speakers who give talks on a wide range of paddlesports-related topics. The talks are free with your admission. The hardest part is finding a space to sit in some of the speaking rooms. Many of the talks are jam packed. The swimming pool of the adjacent hotel also gets used as a demo area, so there are demonstrations given live on the water too!
As a spectator last year, I really enjoyed it. The whole Exhibition center is filled up with boats and equipment and people. It's a fun time. Vendors come from across the country. People attend from all over the US and Canada as well.